Tips for cleaning your gutter
If your gutters are beginning to overflow, it's time to get out the gloves and clean them. Cleaning your gutters is something that a lot of homeowners do every year. Ideally, they should be cleaned out 3-4 times – once for each season. Why so often, you may ask? It's because trees go through seasonal cycles, and they can clog up the gutters.
In the spring, many trees spread twigs and seedlings all over, so it is a great time for inspecting your gutters. You'll want to look for damage that snow from the winter may have caused.
Summer is a good time for gutter cleaning as well, as leaves from storms, may block the gutters, stopping them from free-flowing. In the autumn, some leaves will drop early, causing problems if you don't do something about them. Right before winter sets in, you'll want to clean out your gutters so that ice dams don't build up inside.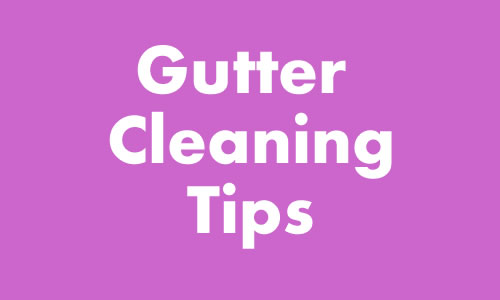 Too much weight from water or ice build-up can cause your gutters to pull off the fascia and even fall off the side of the house. Incorrect maintenance of your gutters may lead to damaged or clogged gutters that can lead to hundreds of pounds worth of damage or more to the foundation of your home, basements, and exterior trim.
Cleaning Out Your Gutters The Hard Way
If you want to clean your gutters correctly, you'll first need to acquire a ladder. They are available for rent for a small fee of about £40.00 per day from many local rental centres. The key is when using a ladder be sure to stay far away from trees, windows, and power lines. You might also want to make use of a ladder stabiliser so that your ladder doesn't slip or crush the gutters while you're cleaning. These can be picked up at many hardware stores for around £30.00. Clean gutters are no more important than your safety. That's why it's a good idea to find a friend or neighbour to help. Each year, thousands of people die from electrocution and falls while using ladders.
Check your gutter guards or gutter screens to make certain that they haven't been clogged up with branches and leaves or damaged. They won't be able to protect your gutters if they're damaged, and water can't flow properly. Your gutters could be clean, but if it's all clogged up, it's pretty much useless.
Be careful lifting up the guards. You'll want to make sure you don't damage them. Then take your time and reinstall them correctly. Run water through them just to make certain they're working right. Also, check the downpipes for any debris blocking the screens and clear them out as necessary. While you're cleaning them, be sure to inspect them and make certain that you've properly secured the fasteners. You can use either a hammer or screwdriver for this task.
Over time, you might find, that spikes that secure the fascia board to the aluminium have loosened. You can either put them back in or – for improved support – replace them to improve support with longer ones. Without properly fastened gutters, the pitch will be different, and water may overflow in low areas. With your neighbour helping you, this would be the best time for a roof inspection – look especially for shingles that are missing or loose, bare nails or cracked vent pipe gaskets. Be sure to return the favour, to your neighbour, if they need it or, alternatively employ the services of a professional gutter cleaning company.